Cups
When it comes to cups, the opportunities are endless. From paper hot cups to small portion control cups, our extensive range has nearly every possible size and type you can imagine. A range of accessories are also available, including straws, carry trays and dispensers.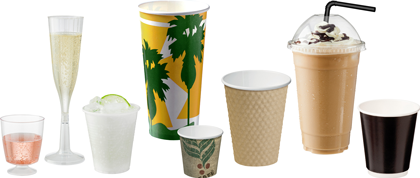 Takeaway Containers
We provide an extensive range of recyclable P.E.T. containers that are suitable for storing nearly any cold food product. Our Clearview® and BettaSeal® containers are specifically designed to showcase your products without compromising on quality, and microwavable containers are also available to cater for a range of takeaway options.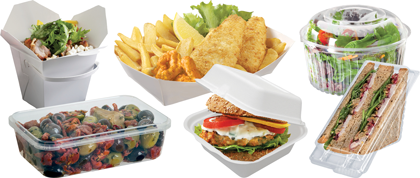 Bags
Paper bags are a cost effective solution to package food products. Our range includes a wide variety of sizes, and most bags can be custom printed to build brand awareness. MPM Marketing Services also stock a range of plastic bags for speciality applications such as storing shopping products and lining cartons.
Tabletops®
For superior presentation and easy clean-up, it is essential to find the right product for the dining surface. Our range of cutlery, napkins, plates and bowls come in various sizes giving you the freedom to present your dining area exactly how you want it.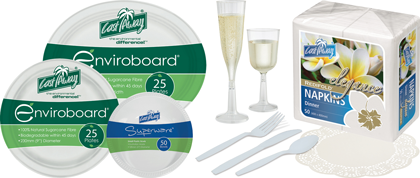 Benchtops®
Our proven range of wrapping materials can ensure your back of house operation always runs smoothly and efficiently. A wide variety of sizes and types are available for any food application.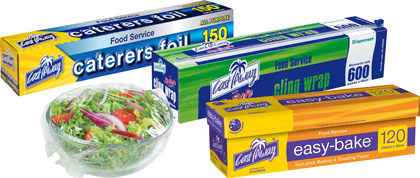 Food Prep & Janitorial
From food preparation to health services, we have you covered with our range of gloves and apparel. Primesoure® gloves come in a range of sizes and types allowing practicality and efficiency for any situation. Our aprons and chef caps are also designed to ensure food safety and hygiene in busy foodservice environments.
Retail
Gain a competitive advantage with our range of Castaway®, Costwise® and Primesource® products on your retail shelves. Our restaurant quality brands can differentiate your business from competitors with a unique product offering.